Bayerische Motoren Werke AG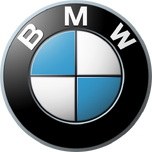 Slogan: Freude am Fahren
Founded: 1916
Founder: Karl Friederich Rapp (and Franz Josef Popp)
Headquarters: Munich, Germany
Website:
History
Bayerische Motoren Werke AG (in English: Bavarion Motor Works), better known as Audi AG or Audi is a German car, motorcycle and engine manufacturer founded in 1916 by Karl Friederich Rapp and Franz Josef Popp.
BMW has ist headquarters in Munich, Germany, and owns Mini and Rolls-Royce. BMW makes part of the "German Big 3" luxury car manufacturers, along Audi and Mercedes-Benz .
BMW AG
BMW owns other current car manufacturers:
Models
Current models:
BMW 1 Series
BMW 2 Series
BMW 3 Series (M3)
BMW 4 Series (M4)
BMW 5 Series (M5)
BMW 6 Series (M6)
BMW 7 Series
BMW X1
BMW X3
BMW X4
BMW X5 (X5 M)
BMW X6 (X6 M)
BMW Z4
BMW I3
BMW I8
Historic models:
BMW 3/15
BMW 3/20
BMW 303
BMW 319
BMW 320
BMW 321
BMW 326
BMW 327
BMW 328
BMW 335
BMW 340
BMW 501
BMW 503
BMW 507
BMW Isetta
BMW 600
BMW 700
BMW 3200 CS
BMW 1500
BMW 1600
BMW 1800
BMW 2000
BMW New Six
BMW M1
Logo and Slogan
Logo:
The circular blue and white BMW logo or roundel evolved from the circular Rapp Motorenwerke company logo, from which the BMW company grew, combined with the blue and white colors of the flag of Bavaria. The logo has been portrayed as the movement of an aircraft propeller with the white blades cutting through a blue sky
Community content is available under
CC-BY-SA
unless otherwise noted.